My Top 10 Games of the Decade
A new decade is already upon us, and the past 10 years haven't treated our generation all that well. We are still in one of the worst global economies since the 1930's, and the press is backstabbing us like there is no tomorrow. Saying things like how much they worry about their present youth becoming tomorrows politicians. Which is all ironic considering the things they done to themselves over the past few years, but this article is not about politics or my hatred for close-minded disrespectful elders. Who seek to destroy the base principles on what countries are founded from, but I always tell myself that every obstacle is a stepping stone for our success in the future. Yet that is not what this rant about our decade is about.
This about the good of what has come from the past years. This is about the awe-inspiring interactive art that had critics begging for a sequel, a story that had a twist that dropped our jaws so far down to the ground we absolutely had to believe it was a lie just to find out in the end it was the dreaded truth, this is about the intensity of a military story that grasped the people's attention, this is about a fantasy world that created an international cultural phenomenon that spanned generations. This is about the greatest games of the past decade.
There have been many great ones and many bad ones, and then there are the games that have been immortalized into the beloved library of classics that consists of games like Mario, Sonic, Final Fantasy, Goldeneye, Zelda, Starcraft, Excite-Bikes, Kirby, and whatever else you wish to add into the library that you see is a classic in your eyes.
So without further delay here are the top 10 games of the past decade.
10. Uncharted 2: Among Thieves
Nathan Drake has become the Indian Jones of video games. Sure we had Laura Croft before him, but that chick was no Nathan Drake. Drakes got swag, charm, deadly skill, an incredible knowledge of ancient history, and he can slaughter yetis like it's nobodies business. Add him into a game that provides an in-depth storyline, beautiful HD graphics, and perfectly paced action sequences. You're in for one hell of a ride. Thanks Nathan we can't wait for your next adventure.
9. Call of Duty: Modern Warfare
I can already see the emails coming in why are you putting in Modern Warfare and not Modern Warfare 2. I will admit Modern Warfare 2 improved the multiplayer to the franchise, but Modern Warfare is the game that created the multiplayer craze. I will also admit that I am not the biggest fan of the franchise, but like I stated in an earlier article there is no denying the influence it has on today's gamer nation. Many people still go online to taunt and brag online about how much of a higher level they are than the newest guy on the block. So here's to all the lifeless egotistical Neanderthals who believe there somebody just because they spent a significant amount of their life mastering one game, congratulations.
8. Counter-Strike
Before there was Modern Warfare there was Counter-Strike the game based of the Half-Life engine that was dedicated to giving the lovers of Half-Life something to awe over, and game developer Valve delivered. Everyone was already asking,"why didn't they give us multiplayer in Half-life this would have been awesome!" Well it's because Valve had something much more entertaining planned for us. Plus in my opinion, Half-Life would have suffered if the game was launched with some kind of multiplayer component. It would have ruined the believability of the Half-Life story.
7. The Sims
Who would have ever thought life would make such a fun game. Well the people at Maxis did, and proved the gaming media, at the time, just how stupid they sounded. The Sims managed to do the near impossible by making the simulation genre successful. Even spanning the gender gap by appealing equally to both men and women, it kept everyone up late looking after the copious needs and wants of tiny computer avatars. In the end the creators are nothing short of gaming gods, creating the best selling PC game of all time.
6. Guitar Hero 2
Sure Guitar Hero was fun, but the genre didn't catch the recognizable popularity till Guitar Hero 2 came out. Now we have music games coming out of our ears, and we only wish for them to stop making them. Fortunately it seems are prayers were answered, yet at the time this was easily one of the most entertaining party pleasers since Mario Party. We could at least thank Activision for giving us what once was, some of the most fun moments, and funniest memories that we will forever cherish.
5. Halo: Combat Evolved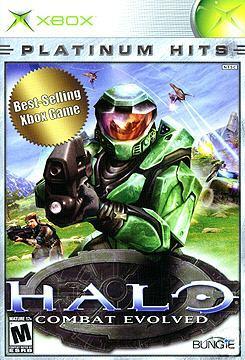 Before the dawn of Halo first-person shooters were considered to be only good on the PC. Then the Master Chief took the stereotype and shot it with a rocket launcher. Halo's groundbreaking controls, stellar graphics and amazing scripting set the bar for future shooters like Modern Warfare, Left 4 Dead, Bioshock, and of course it's own sequels. Halo will forever be a benchmark for gaming.
4. The Legend of Zelda: Twilight Princess
There are so many things about this game that are great. It's one of the only games on the Wii that is actually good, it's a direct, and darker, sequel to Ocrina of Time, and the story can rival any Hollywood  script. In fact I dare say that the Wii might have been invented for this game alone. The gaming mechanics of Zelda were taking to a new height with the Wii remote and nunchuck, and set the standard for every Wii game to come. Sadly most of the present Wii games do not meet that standard. Well Nintendo at least you remade the classic Zelda so that a newer generation could cherish it, Thank You.
3. Star Wars: Knights of the Old Republic
Widely considered one of the best RPG's of all-time, and the best Star Wars game of all-time,. Many were skeptical of a Star Wars RPG that didn't involve Han Solo or Luke Skywalker, and most of all being developed by a company that never made a Sci-Fi ever. With that skepticism in mind, Bioware blew our minds away with a story that was so amazing, many critics were saying it was better than the previous movies that George Lucas made. This game raised the bar in gameplay dialogue, voice acting, and in-game consequences. Many RPG's today use KOTOR for inspiration. Fallout 3 used KOTOR's dialogue system, and Mass Effect 2 was inspired to create equally great voice acting in their game. And now with Bioware making a KOTOR MMO, Star Wars: The Old Republic, we cannot wait to create our own adventures in the Old Republic Universe.
2. World of Warcraft
Love me for it, hate me for it. But too many it's hard to believe there was life before World of Warcraft.,and again to many, there actually was not. Blizzard's massively-multiplayer game has been a nerd culture icon  since its release, turning otherwise everyday people into sleep-deprived lunatics begging for just one more raid at 2:00 AM. Other games have tried to steal the loyal fans of Blizzard's MMO away, but in the last six years, none have come remotely close to luring away more than a handful of WoW players. Currently there are about 12 million out there, making Warcraft larger than the size of Greece. Not bad, for a video game.
1. Shadow of the Colossus
The first decade of the new millennium was a turning point for not just video games, but art as well. With new technology at developers fingertips, designers could implement so much feeling into their video games that the creations they made could be anything that their imagination could grasp! This is why true lovers of video games are so set on believing that their ,"games," are a form of art. Video games are not at all a mindless series of beeps and blinks anymore that most of our elders believe them to still be (close-minded idiots). Some video games have the power to elicit just as much emotional response as any soaring aria, lush painting, or dramatic theatrical monologue ever could. And what do most of the lovers of these games turn to use as an example when debating about video games as an art? There is only one answer, Shadow of the Colossus. The masterpiece is what invented the great debate as video games as an art form. It combines unique gameplay, gorgeous visuals, and pure imagination in such a amazing way that it raised the entire medium of video games so far only a few can compete against it. The game also lets gamers deals with seriously heavy subjects like morality, life and death, passion, courage, unfailing loyalty, and noble sacrifice. No game has ever done that before. Yet the praise of the epic doesn't stop there outside the peacefulness of the game there are many specific moments in the game that will make tears to roll down your cheeks, there are some moments will leave you paralyzed in awe, and others will simply leave you speechless, and those who had the privilege of playing the game know exactly what moments I am talking about. Shadow of the Colossus truly deserves to be the number one game of the decade, and one of the best games of all time.
There they are the top 10 game of the past decade! Please send your hate mail to Philmcrakin@nobodysbuiznes.inc. =) or comment at the bottom. Can't wait to read them!